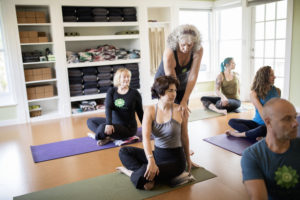 Just as there are many different ways of describing yoga, there are also many different styles of yoga. At the Yoga Sanctuary, we offer a unique blend of Hatha Yoga classes for all levels of experience. We believe that no one yoga style or level is perfect for everyone since we begin our practice from different places. Therefore, we offer a range of styles and levels so you can choose the class that best fits your needs.
In the beginning, you may want to start with one or two classes per week. As you develop and become more excited about your yoga practice, you may want to increase your attendance to three or four classes per week. Remember that you should enjoy your yoga practice and it should be something that you look forward to. Find the balance that works for you!
Class Descriptions
Gentle Yoga is ideal for students who wish to move at a slower pace or are recovering from injuries. Experience a gentle approach to yoga postures that stretch the muscles and deeply relax the nervous system.
Level l provides a supportive environment in which beginning students can learn the foundation of a yoga practice while the more experienced practitioner will be able to fine tune the fundamentals of their practice.
Level ll is for the student with a consistent yoga practice. This 75-minute energetic and creative class explores the more advanced practices while moving at a vigorous tempo. Six months of experience or more and a full understanding of the standing poses is highly recommended.
Meditate & Restore brings together the practices of meditation and restorative yoga. Begin by exploring techniques designed to bring you peace of mind, reduced stress, and improved concentration. Follow this with supported poses that promote deep relaxation and rest. This class will leave you feeling rejuvenated, relaxed, and restored.
Mixed Level introduces more challenging and dynamic postures. It's recommended to have a solid foundation in level l classes before beginning this class. It is your bridge between level l and the challenge of level ll.
Restorative Yoga is a quiet practice in which props are used to place students in comfortable, supported poses that promote deep relaxation. Suitable for any level yoga practitioner, this class will leave you feeling relaxed and restored.
Strength & Balance is a gentle and innovative approach to yoga that uses a chair to provide support and stability for students with injuries, balance issues, or other limitations. This modified approach to our traditional yoga class allows all students to enjoy improved strength, balance, and flexibility.
Sunrise Yoga is an early morning practice that helps you get a jump start on your day! This morning flow class is designed to awaken the body and mind. It will leave you feeling calm, energized, and ready to enter your day.
Taichi is an ancient art that uses gentle flowing movements to promote relaxation, balance, and coordination. Originating in China, taichi is often described as "meditation in motion" because it promotes serenity while connecting the mind and body. The slow, relaxed movements make it accessible to all ages and fitness levels.
Yin Yoga is a meditative, gentle style of Yoga that complements an active, strength-building yoga practice. By holding each asana for several minutes, students stretch the connective tissues in target areas like the hips and spine, increase flexibility, and explore familiar poses on a deeper level.
On-Site Yoga
The Yoga Sanctuary offers on site yoga classes for businesses, local organizations, and even special events. Classes can be held at your location or at our studio. The opening of the studio in 2007 has brought the benefits of Yoga to hundreds of people, regardless of age or fitness level. Yoga calms the mind and reduces stress, with students often reaping the benefits after only a single class. The community wide impact of these benefits became apparent with The Yoga Sanctuary being named 2008 Chamber of Commerce Business of the Year. Now your program can become an extension of an established studio in your own facility.
Here are a few options that we offer:
Corporate Yoga
The Yoga Sanctuary at Work Program provides on-site yoga and corporate rates to local businesses. Bring yoga to your workplace to help your employees relieve stress and prevent injury. Having happy, healthy employees increases productivity and reduces absenteeism. This in turn leads to higher morale, job satisfaction, and work performance. With a staff of highly trained and certified yoga instructors, we can customize a yoga program for your staff's needs. We provide all materials needed. You just provide a quiet open space, such as a meeting or conference room. Join the growing number of corporations embracing workplace yoga as a cost-effective employee retention strategy. Contact us to find out how we can bring yoga to your office or offer corporate rates at our studio.
On-Site Yoga
The Yoga Sanctuary provides on-site yoga classes to local organizations. The program is customized for each organization from actual classes currently offered at The Yoga Sanctuary in downtown Punta Gorda. At The Yoga Sanctuary, we believe Yoga is for everyone, regardless of age or fitness level. Yoga increases strength and flexibility while calming the mind through gentle postures and breathing techniques. A popular complement to competitive sports, yoga can effectively broaden the appeal of any fitness program. We serve many local Churches, Country Clubs, Marinas, and Activity Centers. Contact us to find out how we can bring yoga to your organization.
Yoga Parties
Begin your wedding day with a 75 minute yoga session designed to bring peace and tranquility to your special day. Yoga parties are also ideal themes for bridal parties, baby showers, bachelorette parties, and birthdays. A private yoga party is a great way to bond with others while nurturing your mind, body and spirit through the practice of yoga. We'll provide everything including organic tea and cookies! The Yoga Sanctuary can host a yoga party in the studio or at your location. Contact us to find out how we can enhance your special event.
Community Classes
The Yoga Sanctuary believes strongly in our local community and in the power of every one of us to make a difference. Since 2007, The Yoga Sanctuary has raised over $30,000 for non-profits in our community. We are proud to offer our support in a few ways. One of the main ways is through donation-based Community Classes, with all donations going directly to the featured organization. We have supported groups such as CHEC, Peace River Wildlife Center, Relay for Life, Guardian ad Litem, Florida Blood Centers, and many others.
We also donate gift certificates to local charity fundraisers so please call the studio if you would like us to be part of your event.
To inquire about highlighting a charitable organization that is close to your heart, please call the studio at 941.505.YOGA (9642), or drop us an email!
Prenatal Yoga
Yoga is a wonderful way to prepare your body for birth as well as deepen your relationship with your baby. In prenatal yoga, we learn gentle postures, breath work, and meditation. This cultivates flexibility, confidence, and relaxation in preparation for labor and childbirth. The postures are designed to open the hips, release lower back pain, and connect to your baby both physically and spiritually.
Prenatal Yoga is appropriate for all pregnant women, including those with no previous yoga experience.
At The Yoga Sanctuary, our teachers are trained in prenatal yoga. We offer private sessions to focus on the prenatal needs of a woman. Schedule a private session today to learn how to modify for our regularly scheduled classes.
Kids Yoga
At The Yoga Sanctuary, kids are encouraged to explore the mind and body in a fun-filled way! Yoga is a great way to release energy, stimulate imagination, and improve concentration. The kids learn fun and creative yoga postures, experience a guided relaxation, and practice an exercise in mindfulness. Girl Scout Programs Have fun while earning a badge! The Yoga Sanctuary kids yoga program is a great option for Girls Scout troops and other community groups looking for a fun, healthy activity. Our Kids Yoga Program can be tailored to complete Girl Scout badges or activities. Come to us or we'll come to you. Call us to learn more about this fun, educational activity for kids of all ages! yoga birthday parties Yoga Birthday Parties Our Yoga Parties are a fun, unique way to celebrate a birthday! We include fun, creative poses, breathing techniques, yoga games, and relaxation time. We come to your party location and provide yoga mats, props, and music to ensure a fun-filled yoga celebration. Call today to book your kid's next birthday party!