200 hr Yoga Alliance ® Teacher Training Program
December 2018 – April 2019
"If you want to learn something, read about it.
If you want to understand something, write about it.
If you want to master something, teach it."
– Yogi Bhajan
Do you want to take your yoga practice to the next level? Does the idea of sharing the yoga practice with others as a teacher intrigue you? Are you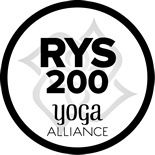 interested in learning more about the philosophy behind the practice? TYS Teacher Training offers a unique, integrated approach to studying, practicing, and teaching yoga. Through this training you will develop a deep foundation of yoga philosophy, anatomy, and asana. As you cultivate your own practice, you will gain the tools needed for teaching a safe and fun yoga class all while gaining a better understanding of yourself along the way. TYS Teacher Training is ideal for aspiring teachers, health practitioners, and students who want to simply deepen their practice and study of yoga.
You will have the unique opportunity to study with leading guest teachers, such as Dr. Carrie Demers (Ayurveda), Nicolai Bachman (Sanskrit), and Tias Little (Asana, Philosophy) who are specialists in their fields. In addition, you will receive business coaching, practical teaching experience, and mentoring from lead teacher, Jennifer French, as well as other TYS teachers and past TT graduates.
Upon completion of this program, you will be fully confident and capable to teach yoga if that is your goal. You will be qualified to register as an instructor with the internationally-recognized Yoga Alliance.
Curriculum
• Yoga Philosophy, Ethics & Lifestyle
• Anatomy & Physiology—both physical and subtle
• Theory & Practice of Asana, Pranayama & Meditation
• Ayurveda—The Sister Science of Yoga
• Teaching Methodology
• Teaching Practicums: The Art of Teaching and Sequencing
Pre-requisites
Please have at least one year of consistent yoga practice. Advanced asana practice is not required; a full commitment to the program is. To apply, submit a completed Teacher Training application(.pdf). You will be contacted to schedule an interview with the program director. All students of yoga are encouraged to apply, regardless of physical ability or limitations.
Schedule
TYS Teacher Training is spread over five months to accommodate those who work a standard full-time schedule, seasonal residents, and students with other obligations. We meet every Wednesday and every other weekend (Friday, Saturday, and Sunday). Your dedication and 100% participation is required for the program. In addition to the scheduled meeting times, you will complete individual and group homework projects, observe and participate in several weekly group classes, contribute Karma Yoga hours, and develop a home practice.
Times:
Wednesdays: 5:30 – 8:30pm
Fridays: 5:30 – 8:30pm
Saturdays: 10:00am – 6:00pm
Sundays: 1:00pm – 6:00pm
Dates:
The TYS Teacher Training program runs every other year. Our next session is planned to begin in December 2018.
Dates and times may be subject to change.
Faculty & Guest Teachers
The Yoga Sanctuary Teacher Training Program is directed by Jennifer French, owner of The Yoga Sanctuary and Yoga Alliance Registered Instructor (E-RYT) with nearly ten years of teaching experience. The faculty also includes local RYT Yoga Instructors and world-renowned guest instructors to offer students one of the best Training Programs in Southwest Florida. Please check back as we continue to add to our confirmed 2018/19 guest teachers.
Dr. Carrie Demers – Ayurveda
As the Director of the Himalayan Institute Total Health Center, Dr. Carrie Demers M.D., lectures nationally on Ayurveda and holistic health. Board-certified in Internal Medicine, Dr. Demers is a holistic physician who blends modern medicine with traditional approaches to health. After receiving her medical degree from the University of Cincinnati and completing her residency at Michael Reese Hospital in Chicago, Dr. Demers went on to study massage, homeopathy, nutrition, herbal medicine, Yoga and Ayurveda. Widely recognized for her expertise in holistic health, Dr. Demers has been quoted in Time magazine, and is a frequent contributor to Yoga International magazine.
Tuition
One of the greatest benefits of participating in The Yoga Sanctuary Teacher Training Program is FREE unlimited classes! Your tuition also includes 20% off all workshops by TYS instructors, all books required for the program, and all other retail items. Enjoy your unlimited classes and savings once your registration is paid in full.
Pricing below reflects 2016/17 session. Pricing structure will be updated for the 2018/19 session in early 2018. Please check back for updates!
Early Registration: $2950 (paid in full by October 19th)
Deposit of $500 due within two weeks of acceptance into the program.
Standard Registration: $3150
Deposit of $500 due within two weeks of acceptance into the program.
Payment Plan: $3350
Deposit of $500 due within two weeks of acceptance into the program.
Three payments of $850 will be automatically charged to your credit card beginning the first day of the program. If you are interested in the payment plan, or have any questions, please e-mail jennifer@theyogasanctuary.biz.

Please contact jenn****@**eyogasanctuary.biz for any additional information.